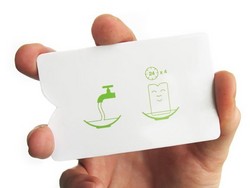 Austin, TX (Vocus) February 18, 2010
ChooseWhat.com came out of beta this January with new look, as well as a new review category. The web site, which reviews the top tool and services for small business infrastructure, features new reviews of business card printing services from top sites like Vista Print, Uprinting and iPrint.
The business card reviews fall in line with ChooseWhats goal to inform small business people of low-cost alternatives to traditional business tools. Many of these tools, such as email fax services and email marketing services, are online, hosted or managed by a virtual team and do not require downloads, installation or additional hardware.
Buiness-Cards.ChooseWhat.com compares the top online business card printing companies, which offer significantly lower-cost business cards than brick-and-mortar print shops. Users can view pricing as well as standard features and available upgrades. Using the comparison chart, users can also compare the top business card companies that offer traditional cards (e.g. Uprinting and VistaPrint), rasied print cards (e.g. iPrint.com and GreatFX) or custom designs (e.g. Moo and Andreoni).